What You'll Do
It's a picnic, but with alpacas! Yup, you heard right, an Alpaca Picnic.
We'll set you up at your own picnic table (and picnic blanket!) in one of our pastures with a picnic basket filled with food and drink and all the fixins.
You'll get to sit and drink and eat and be merry while surrounded by a pack of friendly alpacas. We'll even leave you with a bucket of alpaca food. Some will come up as curious about you as you are about them. Some won't even acknowledge your existence. But the one thing that is guaranteed is that ALL of them will put smiles on your face that you may never be able to wipe.
We'll set you up with a pre prepared picnic basket, and we can accommodate for all food sensitivities and preferences.
This experience is great for couples, families, groups, and great for team-building!
Also just to note, while they're adorable year round, if you're looking to picnic during maximum floof, consider booking early in the season before they are sheared in mid-May, at which point they'll look like goofy aliens through the first part of Summer.
I mean, c'mon…an alpaca picnic!! You know you want to…
What We'll Provide
First of all, we'll provide you with both a picnic table and a picnic blanket so you can choose which you wish to use. On that table you'll find a whimsically delicious special Paca Picnic menu, and what you get will be a surprise, either a traditional American picnic meal prepared by The Tumalo Coffeehouse or, if you have booked for a Saturday or Sunday, an authentic mediterranean feast prepared by Susu Feeds You.
We also have a kid's basket, and yup, we can accommodate most allergies & dietary restrictions.*
Oh, and the alpacas. We'll provide the alpacas. Did we mention the alpacas?
*(If you let us know upon booking, we are able to provide a kid's basket and accommodate most dietary restrictions, allergies or requirements including, but not limited to tree nut allergy, fish allergy, soy-free, vegetarian, shellfish allergy, peanut allergy, egg-free, vegan, dairy-free, gluten-free, keto, pescatarian. Any requirements must be communicated upon booking.)
Where You'll Be
This picnic will take place in one of the several paddocks and pastures available at Flying Dutchman Alpacas, an alpaca farm in Bend, Oregon. You will be sitting on grassy fields laden with various trees, and the alpacas will be going back and forth between satisfying their curiosities about you, and, well, mowing the lawns. Some might even beg you to cuddle with them. While they may each have their own unique personalities, one thing they have in common is that they'll all make you smile!
Who Are We?
We are Original Alpaca Experiences, founded by Wasim Muklashy & Amanda VandenBosch.
I am Wasim, a professional travel & fine art photographer and Bend real estate photographer who found myself willingly thrust into the alpaca world for the past few years, shooting for various farms and alpaca programs. In 2019, while shooting in Peru for Quechua Benefit, a non-profit supporting economic benefits for underserved communities in the Peruvian highlands, I met Amanda VandenBosch, one of the world's premiere alpaca breeders and international alpaca judges. That encounter blossomed into a friendship which led to my living and working at Flying Dutchman Alpacas, her family alpaca farm in Bend, Oregon, during part of the pandemic year.
Taking my morning coffee and lunch in the alpaca paddocks during those magical months was pure therapy, which is something she understood very very well. We both quickly realized that if these buggers were therapeutic to us, they'd be therapeutic to others as well. So figured why not share them with to the world, especially after a year where most of us can certainly use it!!
So here we are, offering an experience with a group of floofs guaranteed to put smiles on the faces of those in the foulest of moods!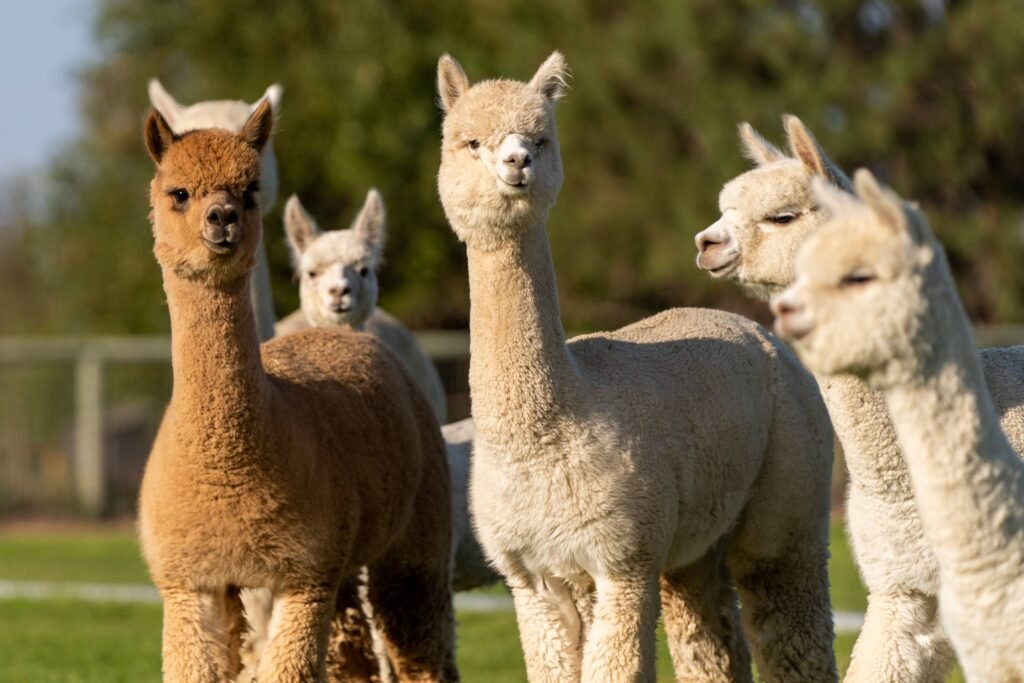 Book A Picnic! You Know You Want To!
For sake of ease and convenience, click here to book your picnic through Airbnb Experiences. If you are looking to book a large group (larger than 8), private, or a corporate event, feel free to contact us directly. And make sure to follow us on Instagram and Like us on Facebook to get a frequent dose of alpaca in your life…
Prices
(Includes the experience as well as all food, drink and utensils)
Standard Picnic (90 minutes, Brunch/Lunch)
$150/person 13+ (minimum party of 2)
$50/person (children 6-12, must be accompanied by adult)
Sunset Picnic (120 minutes, Dinner)
$200/person 13+ (minimum party of 2)
$50/person (children 6-12, must be accompanied by adult)
Additionally, every picnic comes with 10% coupon to use on alpaca products made from the fibers from Oregon-raised alpacas, many of which you just had a picnic with!
Add-Ons Include:
Professional Photography Session (4-8 Edited Digital Images, 2 8×10 prints): $125
Framed & Matted 8×10 Print Of Your Favorite Image: $100
3-5 Minute Virtual Reality Experience w/ 2 Google Cardboard VR Viewers: $200
(If you let us know upon booking, we are able to accommodate most dietary restrictions, allergies or requirements including, but not limited to tree nut allergy, fish allergy, soy-free, vegetarian, shellfish allergy, peanut allergy, egg-free, vegan, dairy-free, gluten-free, keto, pescatarian. Any requirements must be communicated upon booking. There will be an additional charge for vegan meats & cheeses.)
Photography & Videography by commercial & fine art photographer , PacaPics Alpaca Photographer and Bend real estate photographer Wasim Muklashy